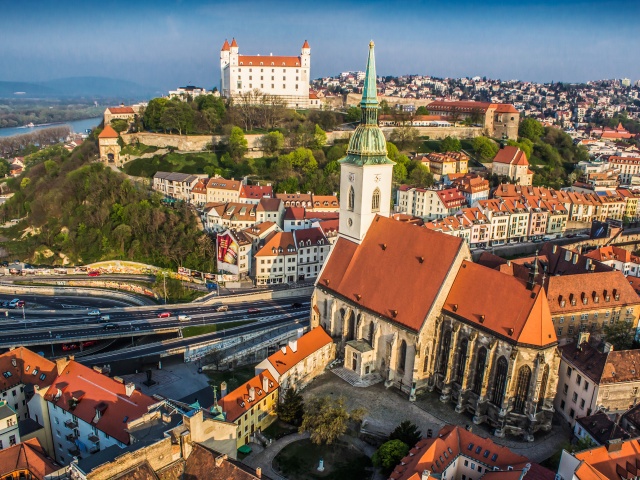 St. Martin's Cathedral, Bratislava
Region
Bratislava
Place
Dóm sv. Martina Rudnayovo nám. 1 811 01 Bratislava
Phone
Tel: +421904738854, + 421/02/544 313 59
Website
Characteristics:

The pride of every Christian city is the parish church. Without a doubt this applies to St. Martin's Cathedral, the largest, oldest and best known cathedral in Bratislava. The cathedral came into being with the Pope's consent to move Bratislava's then Church of the Holy Saviour from the castle to the forecastle area. Pope Innocent III. in 1221 ruled in the matter to comply with the request of King Emeric of Hungary. The actual construction work on the now Gothic cathedral began in the 14th century under the auspices of the monarch and the city council.
St. Martin's Cathedral was the coronation church from 1563 to 1830. The first to be crowned was King Maximilian II. The celebratory coronation ceremony took place on 8 September 1563. Another 18 such ceremonies followed, including the coronation of Maria Theresa (25 June 1741). The last to be crowned with the Crown of St. Stephen beneath the lead statue of St. Martin was Ferdinand V (28 September 1830). An incomplete list of 11 kings and 8 of their consorts crowned in Bratislava's cathedral is shown on a tablet located on the north wall in the church's interior. A hugely popular annual event, the Coronation Festival, serves to remember each of the kings and queens crowned in the cathedral on a rotating basis.
Subsequent Baroque restyling of the cathedral primarily focused on the interior and the construction of the fourth chapel. From 1732 to 1734, the cathedral's floor plan on the north side was expanded to include the Chapel of St. John the Merciful, which is one of the most precious artistic landmarks in Bratislava. The Baroque chapel was most likely constructed following a project from Georg Raphael Donner, who was entrusted with other orders inside the cathedral's interior. A massive Baroque altar dominated by Donner's monumental sculpture of St. Martin on a horse was installed in the place of an older Gothic altar, which was removed. The exquisite work of sculpture was completed around 1744 from lead and portrays a Roman soldier from Transdanubian Pannonia cutting his cloak in a swift motion with his sabre to offer half of it to the freezing beggar below.
The Baroque tower was destroyed in 1833 by a fire sparked by lightning. Only three years had passed since the last coronation ceremony in the cathedral. Repairs were entrusted to the well-known Classicist architect I. Fiegler Sr. His work resulted in a then-modern Romanticism-influenced styling. The tower took on the neo-Gothic appearance that it retains to this day. The tower stretches up to a height of 85 m. The peak holds a gold-plated pillow, measuring 2 x 2 m, which itself supports a gold-plated copy of the Hungarian royal crown. This copy of the crown reaches a height of 1 m and weighs 300 kg. The tower currently holds two bells, the larger of which is named Wedderin.